انجليزي كتاب الطالب خامس ابتدائي ف1 (Our Heritage, Our Pride) حل الوحدة الأولى نقدمه بشكل جميل ومبسط وبشرح كافي بدون استطراد، يضمن للمتعلم سهولة الفهم ووصول الفكرة للمتلقي بدون عناء ، حيث سيكون السؤال بالخط الثخين، أما الجواب فيسكون بالخط الرفيع، متمنين لكم دوام النجاح و التوفيق .
Listen to the recording and choose the correct answer from
a, b, c and d :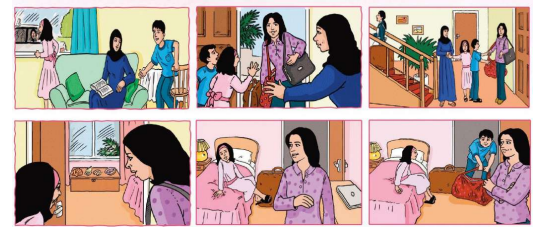 '1- Yasmeen is Sara and Nasser's :
a. mother b.- aunt c. grandparent d. friend
2- The opposite of the word 'heavy' is:
a. fine b. lovely e. light d. long
Listen to the recording again and answer the questions below :
1- Which word shows that Sara is excited?
amazing
2- Why won't Nasser carry the heavy bag for a long time?
Because aunt yasmeen will stay in the upstairs .
Refer to the pictures and discuss the following: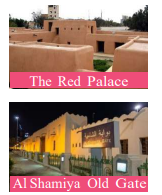 - Do you know where these places are? Yes l d0
- What do you know about them?
They arte touristic places
Read the descriptions below, then choose a name for the app:
* Modern Kuwait *Schools in Kuwait *Kuwait Tourist Guide
Dickson House was built in 1870.The Dickson family lived there for many years. There are 30 rooms in the house. A hundred and fifty years ago, people didn't have electricity, but they had paraffin lamps to light their houses.
Al-Mubarakiyah Market is one of the oldest touristic
markets in Kuwait. It was the centre of buying and selling
in old Kuwait. People bought everything from there.
The Sadu House is an artistic place in Kuwait, mainly built
to save the heritage of sadu weaving. People in old Kuwait
didn't have cloth factories. They wove sadu to make clothes,
bags, carpets and mats.
Read the clues, then identify the places :
1- You can shop and buy many things there:
AlMubarakiya market
2- You can see different types of traditional weaving there: The Sadu House
3- You can learn about how people lived in the past there: Dickson House
Fill in the graphic organizer, then write a paragraph about' Life in Old Kuwait' using the toolkit and the pictures:
Life in the past was very hard, but it was simple, people ate only fish and vegetable. They worked in the sea. They were either fishermen or divers, They wore bisht or thobe. The children played simple games.
Read and choose the correct verb between brackets :
My friend, Ronaldo has arrived from Spain. We have (Visited - Visiting - visit) Kuwait National Museum. We've (saw - see - seen) some old things on Failaka Island. Also, we've (learning- learned -learn) about old Kuwait. Ronaldo has (taken - took - takes) some photos of some coins. We have (have - having - had) a lovely day.
Look at the following pictures, then complete :
A: Have you ever seen an eagle ?
B: No, I've never seen an eagle.
A: Have you ever flown a kite ?
B: Yes, he has flown a kite.
Read the following story then answer the questions below :
There was a smart boy named Yousef. His Social Studies teacher told him about the history of old Kuwait. He was very interested in the lesson. After school, Yousef went back home and told his grandfather and his uncle about the information he learned at school.
That evening, Yousef played his favorite video game 'The Time Machine'. He put on his VR headset, and, for the first time. he chose to travel to Kuwait in 19605. Yousef walked around the old houses, and he felt amazed. He saw how people in old Kuwait were co-operative and helpful. Children obeyed and
respected the elders. He was happy when he saw how kindly Kuwaitis were in helping the poor.
Kuwaitis used to dive for living and trade with other countries like India. They told stories to their children about their sea trips. They ate fish, rice and fresh vegetables.
After the great time he had in Old Kuwait, Yousef took off the VR headset. He felt very proud of his country, his grandfathers kindness and the Kuwaiti heritage.
Choose the correct answer from a, b, c, and d :
1- What is the main idea of the story?
a. VR headset b. People in Old Kuwait
c. The Social Studies class d. Houses in Old Kuwait
2- What does the underlined word 'he' in line 8 refer to?
a. Yousef b. uncle
c. teacher d. grandfather
3- According to the passage, one of the following sentences about Kuwaitis
is NOT TRUE:
a. They were kind b. They told stories
b. They ate fast food d. They showed hospitality
)Fill in the graphic organizer, then write a paragraph about' Your Last Trip' to an interesting place :
Last month, I went to an amazing island. I went with my family. We went by boat. I took my camera with me. I took many photos. I felt so happy. It was an amazing trip